You are a great facilitator and I thoroughly enjoyed being there to see you in action and see the participant painters having such a great time! It was outstanding!
My colleagues loved it! I posted on our intranet, which has garnered a lot of of interest for the next one.
Bravo, encore!

Janis (Town of Newmarket)
Thanks so much for assisting our group in exploring our inner painters. The ladies truly enjoyed themselves while creating their masterpieces. Your gentle and non-judgemental approach allayed all fears and anxiety that may have been present to start. These emotions quickly changed to pride and satisfaction as our artwork started to come together. There is talk amongst us now, as to the next piece we attempt to master. Thanks again (Kim)
Fun Paint Night!
Thanks again to Judy!! (Kelly)


"I have painted before but this was different. I was shown some great techniques."
"I wasn't sure what to expect but it turned out to be a lot of fun."
"I had no idea I was capable of drawing, let alone an owl! Lots of fun and laughter"
"I didn't know how the night would go as I was very nervous and am not a painter. The techniques we were shownmade it easier and fun!"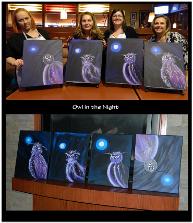 Well – Miss Judy – thank you for making a believer out of me. I have no artistic flare yet you were able to draw it out of me and onto canvas with your patience and guidance and laughter. I have enjoyed each and every moment –
new friends, great time and I come home with a wonderful keepsake for the memories. Cheers & Thank you (Tania)
Please leave a message here:
If you loved (liked... hated...) the art experience
If you would like to see some changes to the program
If you have requests for specific subjects (new ideas)
If you have suggestions for host locations
If you have a message or question for Judy
If you just want to say "Hi"
"Judy, you are the best.
Although my talent is limited, I have seen such an improvement and I always have so much fun with you
…. and you always help me fix my boo boo's…lol



Just wanted to say thanks. I look forward to every paint night with you."

(Sincerely, Lyn)
"I have no experience with painting. Judy makes it easy to follow her instructions to create a masterpiece I never knew I could create! I highly recommend her classes to everyone!" (Jackie)



Yes, I totally agree! I didn't have a clue, and each one I do only gets better and better!!

(Shelley)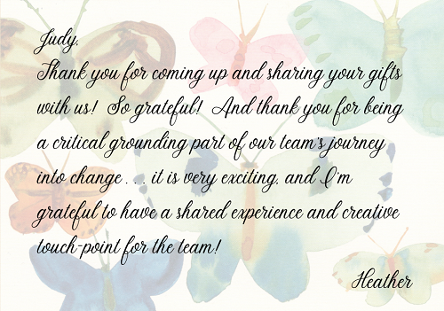 I went to one of her classes and really enjoyed it. I am hoping to attend another one. It was a lot of fun (Sharon)
THANK YOU JUDY!!!! Tonight was wonderful. Thank you for everything, the girls all had a blast. I can't wait to see the pics and I CANT WAIT for our next Paint Night. 🥰 Cheers, (Leanne)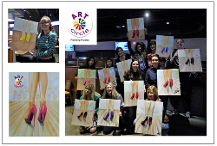 These are not my paintings, right?
I go to ART.circle – Social Art and Judy Horan fixes all my mistakes so I can display the painting in the library.
It's a beautiful thing. (Erika)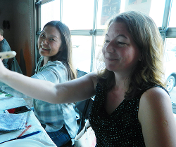 Hi Judy, Just wanted to thank you again for providing our group, of first time painters, with such a wonderful experience! We all enjoyed the session very much!
You made us all feel so relaxed and helped guide us through the process of creating our very own little masterpieces. We all felt pretty darn proud of ourselves! (Kim)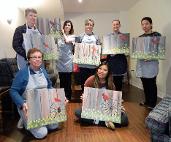 Late Night Paint Night (Town of Newmarket)
Newmarket Old Town Hall played host to Late Night Paint Night, led by Judy Horan of Art Circle. Guests created their own masterful work of art with a scene from Fairy Lake! While it is not mandatory to be the next Picasso, you would not know it by the amazing talent of those in attendance! Great job by all who participated!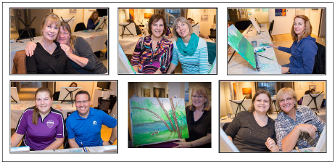 Many thanks for the excellent photos, your kind note, but especially your leadership and coaching last Saturday evening. We have already had an amazing response to this gathering and we are most appreciative of everything that you did to make the evening so enjoyable. Wishing you every continued success in the "Art Circle," and a very Happy Christmas and New Year. P.S. Our "paintings" are still in an honourable location on the family room fireplace!! Thanks again for everything. Please do not hesitate to use us as a reference at any time. (John and Barbara)
To those who live in Keswick – and who want to venture there – Judy is an amazing instructor. You think you can't paint – but what you come out with at the end is a beautiful masterpiece – that you did YAHOO. (Judy B.)
Thank you Judy for a wonderful evening… everyone loved it and were so happy with their painting.




Thinking of a staff social event .. maybe early spring … will keep in touch!




Have a wonderful Christmas with your family!


(Karen)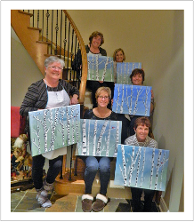 Late Night Paint Night (Town of Newmarket)
Painters both new and skilled gathered at Old Town Hall in mid-October for a fun and social evening where they enjoyed beverages while creating their own masterpiece with instruction by Judy Horan of Art Circle. No experience was required to join this creative evening and all
participants walked out the door with their own unique
piece to be proud of.

Of course…I cannot draw or paint and am so proud that

I created a beautiful Holiday canvas with your help!

So much fun!


With Judy's patient instruction, I proudly created

a Holiday canvas that I will display every Holiday.
Thanks Judy! ( Ruth )


"Judy, you were in my dream last night. I think the last thing I saw was your post in fb about your painting class in Newmarket and that's exactly what I dreamt about. I think sometime in August, my husband and I will attend one of your painting classes. I think it will be a blast !!
See you then!!" (Enza)
Judy Horan, you make me feel like an artist.
Judy treats her students as competent and capable artists. She blends professional technique with encouraging guidance to allow her students to work at their own pace and hone their personal style. She establishes a welcoming atmosphere by making everyone feel included.
Her classes are equally social and artistically challenging, making them engaging and accessible to beginners and seasoned painters alike.
(Erika)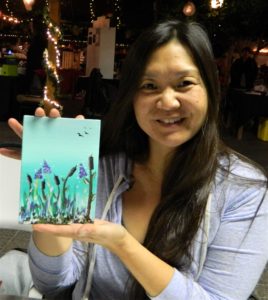 "Such an amazing experience… friendly outgoing professional service and she's such a joy to be around."
(Tiffanie)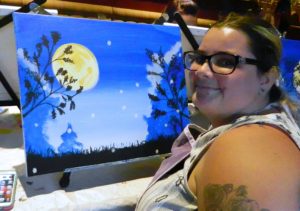 Judy, I just wanted to say thank you once again.
I had so much fun and can't wait to do this again
You are so kind and patient. (Dawn)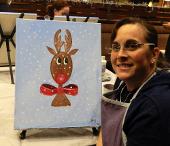 "We had a great time! Thank you!" (Nicole)


We had a really great time last night!!! Thank you so much! (Amy)


Sometimes I'm amazed at what talent lies within us - Judy brings out those talents!
Even if you don't think you can paint, give it a try!
You'll be very surprised! And it's super relaxing.
(Jackie)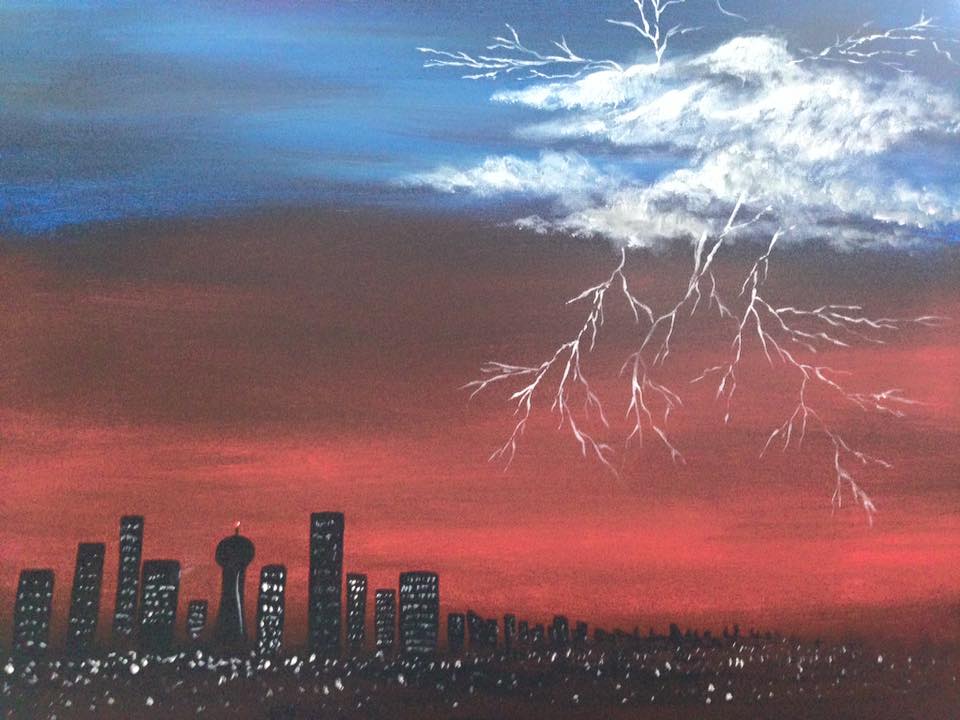 She's so talented and an excellent teacher; I've learned tons and had a great time.
(Shannon)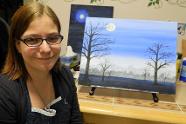 I posted our pics on FB and so many of my friends and family actually liked my pic! I received the greatest of compliments, which surprised me! LOL!
Looking forward to seeing you again! Thank you!!!! You have a beautiful disposition and so genuine as you share your expertise yet allow each "artist" to create their own masterpiece! Don't stop!!!!!! (Brenda)




Thank you for making our date night so much fun! My husband & I had an amazing time and loved our paintings! My husband said he surprised himself with his work and we both can't wait to attend another session with you! I will be highly recommending these classes and bringing many more friends with me next time! Great value for everything included! Thanks again Judy!! (Jackie)



Just wanted to say we had soooo much fun thank you! (Katharina)


Thank you Judy for such an amazing time, you are a great teacher and you brought out of all of us, the beauty within.
Loved every minute of it!
(Regina)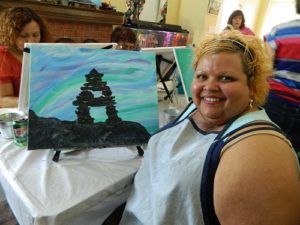 "Thank you Judy for a great night at Boston Pizza last night. I had fun learning how to "paint". I will definitely be back." (Nina)


"So much fun. If you are looking for a night out and a glass of wine and food, check out ART.circle.
(Dianne)


Thank you Judy for such a wonderful evening last night. We enjoyed ourselves immensely!!! You're a fabulous teacher, so encouraging and patient. Looking forward to our next session!!! Cheers

(Rebecca)
It was a blast. We will watch for other classes (Judy)


Judy, you were in my dream last night. I think the last thing I saw was your post in fb about your painting class in Newmarket and that's exactly what I dreamt about. I think sometime in August, my husband and I will attend one of your painting classes. I think it will be a blast!!
See you then!! (Enza)


Had an awesome time eating, drinking, and creating these masterpieces on Wednesday night

I highly recommend ART.circle for a date night or a
night out with friends.
Judy also does corporate sessions! (Nicole)
"Never worked on canvas or with coloured paint. Looked way harder, Judy gives clear easy step by step instructions. Now my painting is in my office."
(Steve)


"Thank you Judy for an amazing evening at Memphis North" (Yvonne)


"Had so much fun. Thank u"
(Elizabeth)


"Thank you Judy for an amazing painting night!!.
We had so much fun!" (Maryna)
"Such a fun time!!! Highly recommend it!!!"
(Nikki)


I have never painted before - I didn't think I could do it, but

Judy is an amazing teacher - and this was a blank canvas when I first arrived. (Judy B)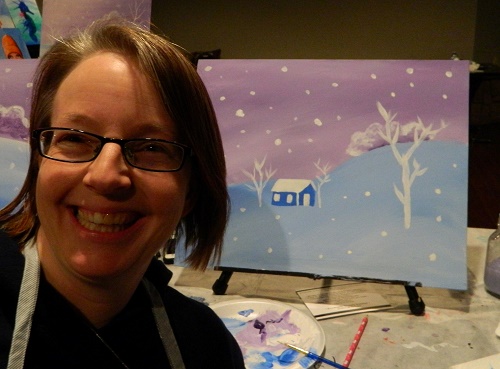 I cannot thank Judy enough for holding my ART.circle - Social Art fundraiser for Mental Health which was benefiting Youth Mental Health Programming in all of York Region and South Simcoe through CMHA York and South Simcoe. Everyone who participated - I can't thank you enough either - it was certainly a blast. Here are my pics to prove I can paint - and that this won't be the last time Judy sees me. (Judy B)


My first painting! Done with Judy . If you haven't been to the Tuesday night painting at Boston Pizza...GO! So fun! I have NEVER painted before, enjoyed this so much.

(Liz)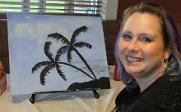 LOVE IT....had a blast...and you make it easy ....thank you so much...this is one of my favs (Trish)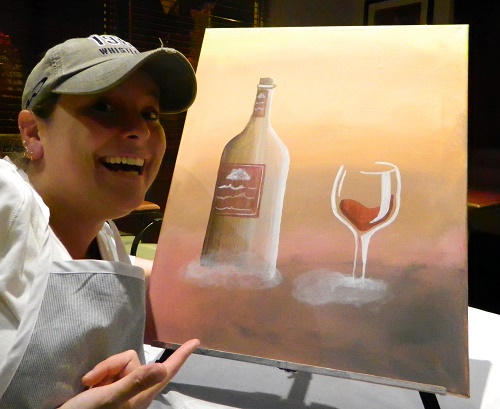 © Copyright ArtCircle-SocialArt